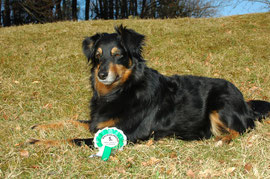 We started at the Waldheimat DogDance Tournament and came back home with a big success. Pearl, Jack and I showed our DogDance choreographies for the first time in the official class 1. There were a total of 30 competitors in this class and so it was divide into three separate groups. 
Pearl and I had an african theme song "The Savannah". Pearl has done well the starting figure and the final figure, even in between she was very good except for a few little motivation problems. We got a great 5th place and got a upgrade point. My good girl, but now we will work on your motivation.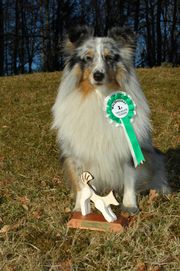 Jack and I had a cowboy theme song "Cotton Eyed Joe" by Rednex. Jack was extremly motivated and passed through the entire choreography without a single bark. We've even got extra praise from the judges that he is areally great, calm and focused working Sheltie. =)
It was Jack's second single performance with me and we got the first place and of course an upgrade piont. He won the popular "Waldi" prize. Good boy!! =)
Thank you Christoph for your great support!