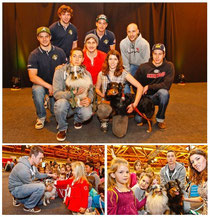 We were in Klagenfurt and had our first official Dogdance / Trickdog performance on a stage in front of 600 children and their parents. Pearl and Jack had a great time and did't want to get off the stage. They enjoyed it in the center of attention and now they have many more little fans.

After the show Jack went in the middle of the group of children and was petted. We were also interviewed and photographed  by the child reporters. This time, Christoph also showed a lot of tricks with Pearl. Hockey players from KAC and VSV were there and were interviewed by the children too. DSDS star Marco Angelini was there and made a great show. We talked with him and had a great day.
On 5.6.2012, we will act again in the soap factory in Graz. Marco will also rock the stage.