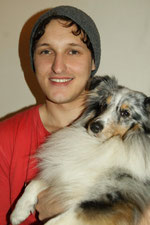 It was a great event with about 850 children and their parents in the soap factory in Graz. Jack and Pearl mastered their two appearances with flying colors. Every child wanted a picture together with Jack. Marco Angelini was also back on the ground and rocked the stage.

 
Picture: Jack made ​​himself comfortable on Marcos arm!
There will be a report on Jack and Pearl in the "Kleine Kinderzeitung" in the next issue. Check them out.