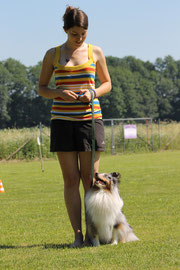 In the morning, Jack and I had our last therapy dog training ​​before the summer break.

Then we visited our friends in Mureck and went swimming in Radkersburg.
Today Jack, Christoph and I were in Obervogau at the therapy dog training. Jack did a great job and we are ready for the final exam. Here you can see photos of the training.
Thereafter we visited our friends Sabrina, Michael and their sweet Sheltie bitches Samy and Kelly in Mureck. We also wanted to see the puppies again, before they go to their new homes. We were able to take a family photo.