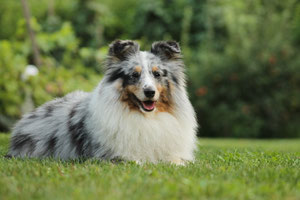 A weekend that you hardly can beat. Pearl and I had our first start in agility. =) Jack and I were on a show in Croatia, and in Burgenland. We came home with very nice results.
On friday Pearl and I had our first start in agility in St. Margarethen/ Raab. It was an evening agility tournament with 2 A-runs. Pearl was first measured, and was allowed to start in the class LK1 medium. Pearl stopped at all zones and mastered all the barries very well. We ran 2x V0 (error-free) and achieved overall in a great 3rd place. I'm soo proud of my Pearlimaus. Video and photos will be on display soon. Thank you to Rosa, Conny, Moni, Anita and all those who supported us at the tournament and before. =)
On Saturday Jack, Kelly, Sabrina and I were in Koprivnica (Croatia) and our two shelties were able to convince the very strict judge. We came back home with V1, CAC-HR. Jack got also ​​the BOB. Congratulations to Sabrina and Kelly to the first qualifying for the champion title in Croatia. ;-) Well done! 
On Sunday we four were in Baumgarten/Burgenland. There, Jack reached, under very strong competition, a great V2, Res CAC with a great review! =))) Kelly also was able to achieve a V3. We met many familiar faces and could also meet new ones. ;-) Jack's uncles Jamie and Maverick were there and were able to achieve a great SG4 and SG. Congratulations! 
Thanks to my beloved boyfriend Chri for his great support throughout the weekend! ♥ ♥ ♥ It is great to have such a boyfriend. Thanks to Sabrina for the driving and the great support!