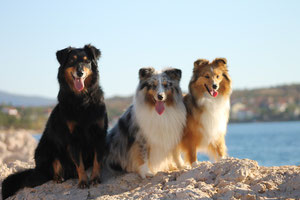 We are back from a beautiful journey to Croatia together with Jack, Pearl and Kelly. We came home relaxed and Jack and Kelly were able to achieve  two great show success.
Chri, Pearl, Jack, Kelly ( Excellent Choice Heart's N Soul) and I went together to Croatia. On the way we made a quick stop in Karlovac to exhibit Jack and Kelly there. Sabrina was on holiday with her boyfriend too and confide pretty Kelly to us. Thank you for your trust! For me it was a premiere. I did the first time act another dog in the ring. Jack and Kelly were super and even when I ran with them together in the ring, they showed their chocolate site. Jack was able to reach his last CAC-HR and is now "Croatian Champion"! I am very proud of my boy. And I'm also proud of Kelly and me, because we got the CAC-HR and the BOB too. * smile *
After that we went to the island Krk and camped in Silo. There was a great dog beach, where we could enjoy the sea and the last summer hours. Of course there are some photos for you to see. The dogs were very well behaved and showed us how easy it can be with !three! dogs to go on vacation. ;-)
Pearl and Chri have been very supportive, I am very happy to have such an understanding friend. Thank you sweetie!