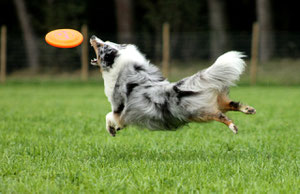 Chri and Jack were at a discdogging seminar with Manon Berdan. They were able to try many and got a  great feedback. It was a fantastic weekend!!
Last weekend at ÖRV Unterpremstätten was all hell let loose.  Manon Berdan, one of the "great" Austrian discdoggers was there to help a handful newcomers the whole weekend.  Chri and Jack were able to show their discdogging progress and got a great feedback and new possibilities. They had a nice time and got much impressions.
Thanks to the organizer and many thanks to Manon Berdan for the great seminar.