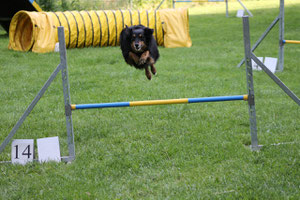 Last weekend Pearl and I started in an agility team for the first time. We also started individual and were really good. We are allowed to start in the advanced class 2 now! 
At Saturday Pearl and I went to Flavia Solva / Wagna and started in an agility team at the "Austrian championchip". We were already qualified for the final run. The name of our team was "Ballgeier". Unfortunately we were disqualified two times in the open runs. We did an error-free run in the final run. I'm very proud of my mouse. =) We learned a lot of this three runs and it was much fun to run with a team. In our team there were Hermann with Boris, Monika with Jenny and Cornelia with Chuva!! Thanks for the receptive to the team!! =)
At sunday we started individual at the "Austrian Championship".  The first run was error-free, the second run was also very good but we were disqualify just before the end.  Nevertheless we qualified us for the final run and reached the 6th place. Well done Pearl! It was a really difficult final run and we managed it with less error. We got the 10th place at the Austrian Championship!!!
It was our fourth tournament and we did our third error-free run. Now we are allowed to start in the advance class 2! I'm very proud of my Pearl and with this good feelings we will relaxe this year. 
Thanks to Rosa and Conny for your help with the parcour! Thanks to Monika, Cornelia and Hermann for taking Pearl and me to the tournament. 
Videos of tournaments are here: Tournament videos