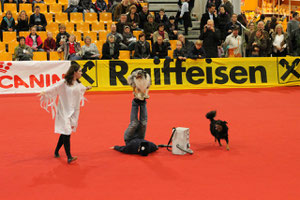 It was a fantastic weekend. On Saturday Pearl, Jack, Chri and I tried our first performance as a quartett with the topic "Ghostbusters". On Sunday we performed as a trio in official class with the topic "Pirates of the Carribean". 
It was a fantastic weekend. There was a premiere for my boyfriend on saturday. He tried to performe DogDance at a tournament for the first time. We presented a performance with the topic "Ghostbusters" as a quartet in the fun class. It worked very well and we got a nice evaluation.
On Sunday we had problems with the motivation. Pearl thought "without goodies I don't do anything" :-P  and Jack "Hmmm something smells great?". Despite distractions we did our performance and  Pearl and Jack had much fun. We got the 1. place in the official class trio. =))) 
Thanks to the photographer and filmer, to Nina for her support, to Astrid for the speacial requisite ;-) and to my boyfriend Chri for everything!!!
A big thank you to Monika Fritz, Karl Weissenbacher and of course the team of "Pfötchenwelt Langenwang" for this great organisation!!!
Thanks to all who kept their's fingers crossed for us. ;-)
The videos you can find here: Tournament Videos