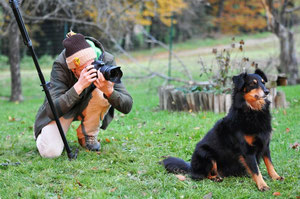 Jack and Pearl have well mastered their first advertising film. There were filmed two important scenes for a short commercial spot.
In total there were 4 dogs and they had to sit nose to nose remain quiet, which was not easy. There were a lot of photos of one talented photographer. Some I can show it here.
Animal photographer: Anne Geier 
More details about the commercial spot will be announced soon. The result will be seen, of course, here.
Thanks mum for your support at the shoot and Harry for driving us.