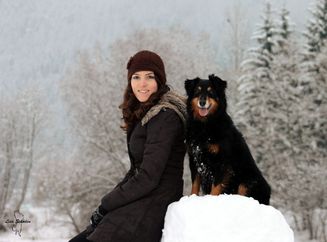 We had an exciting weekend. We took part not only in agility competition, we also dared as a combiner at the weekend. That means, on Friday we went to a subordination tournament which is evaluated together with the agility competition. It was also the subordination exams for Pearl and Jack.
Friday
BGH2 with Jack: Bring the dumbbell when sand is on it = no go ;-) but we passed the exam. BGH3 with Pearl: It was really good even though she had "similar problems" with the sand like Jack. * laugh * We passed the exams  and finally some points of our "to-do" list were checked off.

Sunday
Pearl and I started at the agility competition in the LK1 medium and completed both A-runs with the best time. * stolzbin * Thus we have got the day's victory.
Combination
With the total points of subordination and agility we reached the 3rd place. Pearli you're my brave little witch!

The funny thing was that we missed both award ceremonies. But we have made ​​beautiful snow photos before the rain came. ;-) It was such a nice weekend ..... ♥ ☺ Thanks to my friend Christopher, who has supported us great and has filmed the runs. Also, a big thank to Ursula Teschl who took us  to Niklasdorf on Friday. 
Photos can be seen here, and the videos can be found in "agility competition videos".