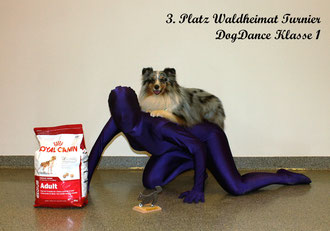 We had a DogDance seminar with Attila Szkukalek, who is my great idol. At the DogDance tournament Jack & Lisa got the 3rd place and Pearl & Chri got the 6th place for their first start in official class 1. Great news from agility, Pearl is "Styrian Winter Cup Winner 2013"!
There are a lot of news. 14th and 15th of March Jack, Pearl and I were at a Dogdance seminar with Attila Szukalek in Langenwang. It was a great seminar, we learned a lot of new methods to improve our choreographies. It was great to get feedback from my biggest idol Attila. Because of his routine as  Charlie Chaplin I decided to do Dogdance with my dogs.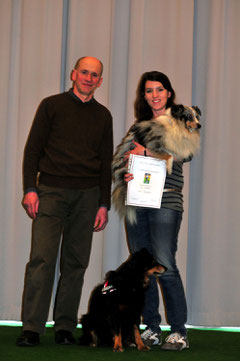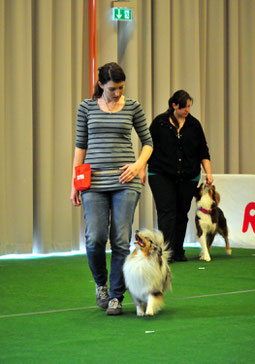 An animal photographer was there and took great pictures of us and we also had a small shoot outside. Thank you Daniela for your time! =) Also, Nicole took pictures of us at the seminar, thank you!
On Sunday there was the official Dogdance tournament in Langenwang. Once again it was something very special to attend at this tournament. We met a lot of lovely people and could see great dances. Chri and Pearl performed their first Dogdance routine in the official class 1 with the topic "Star Wars." I am very proud of them, they got the 6th place of 10 participants in the class 1/A. They also received a rising point for the next class.
I started with Jack in class 1, this time I was a little more creative for my costume. We danced to the soundtrack of Austin Powers and got the third Place. This is the second "Waldi" for Jack. *proud*
Thanks to the photographer Markus Zach for the photos! Finally also a  big thank you to the team "Pfötchenwelt Langenwang' especially Monika Fritz for making this tournament possible. THANK YOU!
Unfortunately we only have a video of Jack and me, the video of Chri and Pearl is unclear because of technical problems.
At the same time on Sunday there was also the last tournament of the Styrian Winter Cup in Tober. We started at the Dogdance tournament so we could not participate in the agility competition. In the evening, we received great news, due to the fact that Pearl and I have won the last two tournaments in our class, in the overall rating we got the 1st place in class LK1 medium. Pearl is thus "Styrian Winter Cup Winner" in the LK1 medium.