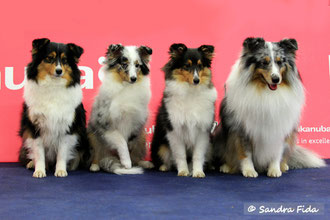 Jack's daughters Annie and Samira did their first show in Wieselburg. Mum Phoebe and Dad Jack were there as reinforcements. The two presented great in the ring and got both very promising and "Best Puppy".
Samira, Annie Berry and Joe are 6 months old now. How time flies. ♥ Now the little ones go to their first shows. Annie and Samira was in Wieselburg in puppy class. Vivian and Annemarie have been practicing good with them and showed a nice ring presentation. Both girls got a very promising and a "Best Puppy". The pretty Collie's Lindsay TPOR  and Tracy's TPOR were also presented and got great reviews. Breeder Monika Rau,  Mum Phoebe, Dad Jack and I are very proud of them.
Thanks Sandra Fida for the great pics! 
Sarah made a great video of them in the ring. Thanks for that! You can find more videos and results from the show on her homepage: http://www.diego-the-sheltie.de/