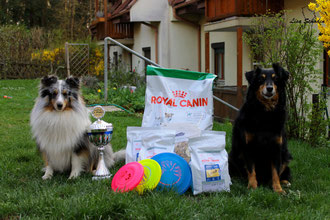 We had a successful DogDance weekend. Christopher and Pearl had their second performance. Lisa and Jack managed a flawless performance and reached the first place. At fun tournament they also were very motivated.
On 20th and 21st April, the Royal Canine DogDance tournament was held as part of the pet fair in Wels. The ring was in the middle of a hall, next to it there was a preparation ring for the dancers and a dressing room. On Saturday, the official classes were held and on Sunday the fun classes. On both days the fair was well attended and many spectators crowded around the ring to cheer the dancers at DogDance tournament. A total of 26 teams are launched in the official classes. 
Christoph and Pearl did their second performance at all, they were able to convince them of their Star Wars choreography and harvested thunderous applause from the audience. Unfortunately, there were some points deduction due to the fact that Pearl was barking because of excitement and Christoph touched her twice with his "lightsaber". Thus they reached the 11th place of the official class 1.
Lisa and Jack showed a flawless choreography with Morphsuit and reached the first place of 12 participants in the official class 1.
On Sunday we spontaneously performed in the fun category. Christoph with Pearl improved their "mistakes" of the previous day and Lisa with Jack tried their first Heelwork to Music (HTM) choreography. Thus it was a "dance-like" weekend with a lot of fun and success at the end.
We stayed with our good friend Sarah, thanks, it was very nice to stay at your home! =) Thank you to Sarah and Lukas for filming the dances! Moderator Martin Pratschker has done a good job and announced us great.