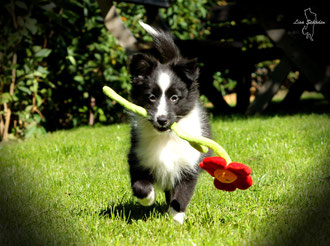 I'm so happy to present "Maili" now. She will complete our herd. Thank you Nadine for this wonderful dog. On the way to pick up Maili we had a really nice trip and met many friends. We had two wonderful days in Germany.
Our journey began very early on Sunday. First stop near Frankfurt at an agility competition. We met jack's aunt "Face", half-sister "Peewee" and saw rocket "Face" live doing agility. As a bonus, there were two half-brothers of Jack, Nathan and Nanouk.
Finally we went to Nadine and her great herd "of Desert Meadow" in Kassel. There we were first greeted by Maili ..... indescribable how great it was, this little puppy came up to us and welcomed us. Jack and Maili will become a great team, I'm sure. Nadine took a lot of time for us. There was the big meadow with sheeps and an agility course. We see a great puppy playground. Maili and her siblings played with mom Holly for hours. It was so beautiful to look at. Holly is a passionate herding dog and I'm sure Maili will also work with sheeps sometime.
In the evening we went with Maili and Jack to Kassel and stayed in a hostel. There were no problems with dogs in the rooms. We got a great room on the ground floor with access to the meadow. Maili is already sleeping through night in the box. 
The next day we drove to the nearby landmarks of Kassel. The HERCULES, a great building with a beautiful park around it and a beautiful waterfall. It was cold in the morning but Chri took care of Maili and he hold her warm in his jacket. When the sun came through the clouds and it was nice and warm Maili and Jack played together for the first time. ♥
Maili is a super car driver, in the box she falls asleep and wakes up again only when the engine is turned off. We had a lot of small breaks and one big break at family Ziemsen in Bavaria. We thought Jack may play with dogs there and in the meantime Maili stays in the car. But Maili wanted to say hello to the dogs and cats there. Maili played with the young cat Bonni and then also with Sheltie Shannon. Ursula took great photos and I made a short video. Maili lives to the motto: "Veni, vidi, vici - I came, I saw, I conquered."
Thank you Ursula and Klaus for the great hospitality and the beautiful photos. It was a wonderful time with you and I hope we'll see you again soon!
The rest of way home, Maili and Jack slept curled up together in the box. Pearl friendly greeted us and she accepted Maili as a part of our herd. As a bonus, Maili slept through the night and got up with us in the morning to start the day with a walk together in the forest. It was a wonderful puppy pick-up day. ♥
Now we can present: "Glamorous Girl of Desert Meadow" called Maili. She has already got her own page.
Thank you Nadine, for this unique treasure you've entrusted to us! She is perfect for us. ♥
In the meantime Pearl got a great support at home, thank you Vicky, Manu and Bambi, so nice of you! *bighug*